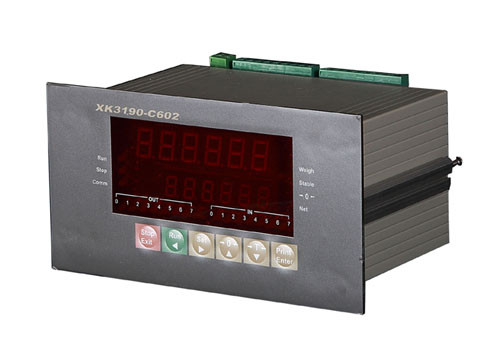 Digital Weight Controller
Description
Product review
Name: Digital weight controller 
*Model: XK3190-C602 
Weighing indicator XK3190-C602 adopts 32-bits ARM processor of core Cortex M3 and high precision of A/D conversion technology. It displays to the conversion of weight signals. The max conversion speed is over 200 times/sec. This indicator can be composed to catchweigher, Automatic gravimetric filling instruments, etc. It is used in various fast speed and high precision requirement weighing control. 
Standard Function: 
*Selectable of four programme mode: Self-control or external-control Catchweigher, plus or minus Automatic gravimetric filling instruments. 
The catchweigher can be set to be general catchweigher and peak- 
Value maintenance scale. It can store 5 batching material used as fix- Quantity scale or catchweigher. 
*Able to set digital filter intensity, A/D conversion speed 
*Weighing data save, check and delete, protection in case of power off 
*Real-time clock without effect on power 
*Standard: 8 input, 2 of them can be high speed counting input, coder Inputor interrupt ( high speed reflection ) input; 8 output ( optional for Relay box ). Be able to fix-quantity control of two materials for standard Programme 
*Input & output can be expanded, each IO expanding box can be Expanded to 8 on/off input and 
8 on/off output. The max. Connection number of IO expanding box is Four. Total quantity of IO is 40 input and 40 output. 
*2 separate serial communication interface, one is RS232, another is RS232/RS422/RS485 for selection, with two communication ways by Continuous sending or on command method. 
*Parallel/serial print interface, able to connect many kinds of printers 
*Chinese/English weighing date, accumulation, batching material or Calibration can be printed. 
*Optical isolation 20mA current loop scoreboard display interface 
*Optical isolation 4-20mA/0-10V analog output ( optional ) Technical Parameter: 
*Accuracy class: III 
*Max. Verified counts: N=3000 
*Min. Input signal voltage of verified counts e: 1UV 
*Input signal range: -15mV-15mV 
*Weighing load cell power supply DC: 5V; 80mA 
*Max. Connection number of load cell: 4 at 350Ω 
*Load cell connection mode: 6 wire, auto compensation for long distance. 
*Display: Main display with 6 digits LED, data height: 0.56 inch, accessory Display with digits LED, data height: 0.4 inch, 23 status instruction lights. 
*With real time clock. Time and date can be displayed on the indicator panel. 
*Max. Data storage: 8064 weighing data or 4032 time & weighing data 
*Scoreboard display interface: Serial output, 20mA current loop signal 
*Communication interface: 2 serial RS232C. One can be set to be RS422/RS485, Baud rate 600-57600 for selection 
*Parallel print interface: Able to connect with micro printer, wide-line printer model LT800, KX-P1121 or LQ1600K 
*Output: 8 optical isolation, open collector on/off output, be able to connect 8 relay box. 
*Input: 8 optical isolation input, input signal + 12 - + 24V DC 
*Input & output expand: Able to connect 4 expanding module, each module including 8 optical isolation input and 9 optical isolation relay output. 
*Analog output: 1 photo electricity seclusion output. 4-20mA/0-5V/0-10V, Three models for selection. 
*Power supply: 110-230V AC; 50/60 Hz 
*Operating temperature/humidity: 0C-40C; <90%RH 
*Dimension of installation portiforium: 152*77(mm)