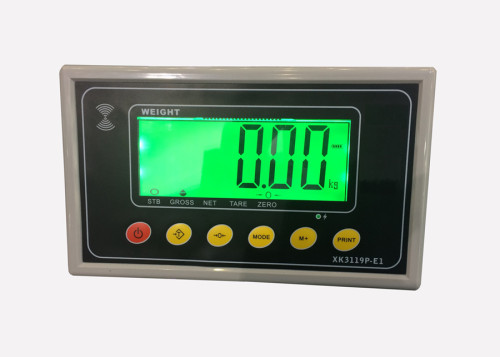 Big Display Weighing Indicator
Description
Name: Big display weighing indicator
Model:XK3119P-E1
Feature:
1. Brand new big display indicator.
2. 80mm height display, easy reading.
3. LCD and LED display selectable.
4. Cell capacity shows.
5. Checking weighing with alert light.
6. Date and time displays when in save mode.
7. Up to 8pcs loadcell connected.
8. Bluetooth or Wireless parts selecatble.
9. With plastic bracket and battery.
※Specification:
1. Power:12VDC, AC adapter or transformer, 6V,4.0 Ah rechargeable battery.
2. Excitiation Voltage:5V DC, 4*350Ω or
3. Input signal range: -5~15mv.
4. Resolution:Internal resolution:300000,display resolution:300000.