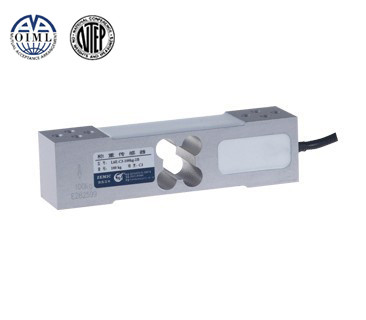 Description
◆Name: Load cell
◆Modl: L6E
◆L6E load cells are available in the capacities 50kg to 300kg.
◆Alumium constructionm with parallel beam.
◆Silicon adhesive sealed, surface anodized and anti-corrosion.
◆Intergral structure and easy installation.
◆Suitable for pricing scales, platform scales and other electronic weighing devices.
◆Capacit:50kg to 300kg .
◆High accuracy.
◆Max. platform size: 400x400mm.
◆With OIML approval.
Specifications

50/60/80/100/150/200/300

C3D

C3

C3G

Approvals

Maximum number of
verification intervals

n max

2500

3000

4000

Minimum load cell verification interval

v min

Emax/5000

Emax/7000

Emax/11000

Combined error

(%FS)

≤±0.030

≤±0.020

≤±0.015

Creep

(%FS/30min)

≤±0.020

≤±0.0167

≤±0.0125

Temperature effect on sensitivity

≤±0.021

≤±0.0175

≤±0.0131

Temperature effect on zero

≤±0.028

≤±0.020

≤±0.0127

Input resistance

(Ω)

406±6

Output resistance

(Ω)

350±3

Insulation resistance

(MΩ)

≥5000(50VDC)

Zero balance

(%FS)

2

Temperature,compensated

(℃)

-10~+40

Temperature,operating

(℃)

-35~+65

Excitation, Recommended

(V)

5~12(DC)

Excitation,Max

Safe overload

(%FS)

150

Ultimate overload

(%FS)

300

Corner correction